In times of danger, popular culture tells us to rely on instinct. Evolutionarily honed reflexes will see us through. Heat burns, and we're all familiar with the automatic response of jerking our hand away from an object that is too hot. Yet this fast response is too quick for us to know if we can pick up, say, a cup of coffee. Speed undermines accuracy: we know that the cup is hot but not how hot. We must hold a finger against the cup to accurately judge its temperature.
Although picking up a cup of coffee is rarely a life-and-death situation, microbes can respond analogously when in peril. We consider single cells of baker's yeast suddenly plunged into a thick syrup (imagine falling into an overly ripe grape). In response water rushes out of the cells (the opposite of the wrinkling of skin caused by a long bath), and we can see individual cells collapse in seconds. To grow again, they must recover that lost volume.
This extracellular stress is detected by two cellular pathways or tripwires comprising chains of proteins, where the shrinking of the cell generates changes in shape of proteins at the cell surface which in turn generate changes in shape of intracellular proteins. These new conformations are further recognised by other proteins, which too alter their own shape to pass information down the chain. Why two sensing pathways have evolved rather than one is not understood.
By watching the responses of single cells and using genetic mutants, we showed that the two pathways allow the cells to be both fast and accurate. One pathway acts like a reflex-like response. It is quick, ready for emergencies, but, like a jerked back finger, does not report well on the severity of the stress. For cells, this inaccuracy is a problem. To thrive in syrupy environments energy that could be spent on growth is instead diverted to make glycerol, and so draw water back inside cells. Making too little glycerol compromises growth by preventing a full recovery of the volume, but making too much is wasteful with the excess glycerol leaking from the cell. Here the second pathway steps up. This pathway is slow but by forsaking speed it senses accurately, like the firmly held out finger, and allows the cell to match intracellular glycerol with levels of extracellular stress.
The two pathways allow a division of labour—one specialising in speed and the other specialising in accuracy—that enhances survival. We can compare the behaviour of cells with the behaviour of mutants that have just one of the sensing pathways. Cells with only the reflex-like pathway survive best in emergency-like situations where stress is sudden and severe. Cells with only the slow pathway survive best in gradually increasing, fluctuating stress where accurate responses eventually pay off. The natural cells by having both pathways have the benefits of both short-term speed and long-term accuracy and survive better than the mutants in any environment.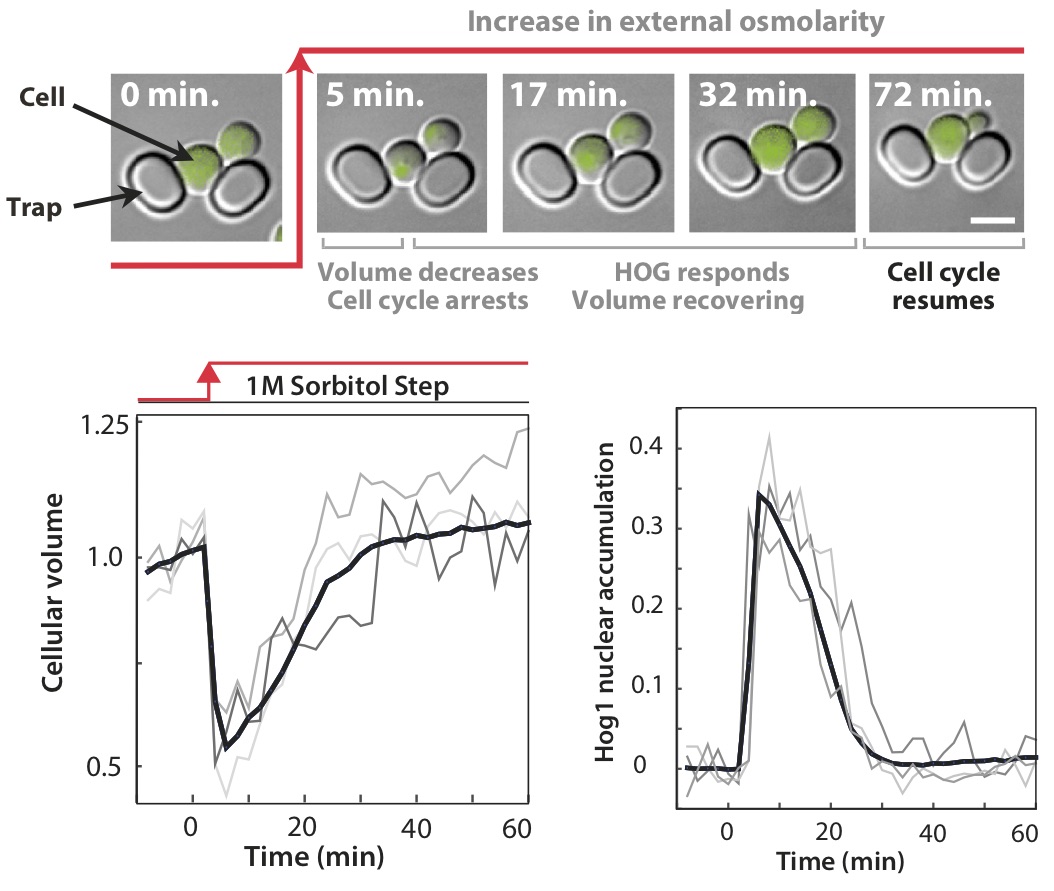 Following single cells of budding yeast during the application of high osmotic stress (the addition of a syrup of sorbitol), we can measure the accuracy of each cell's stress response. Top: Imaging using ALCATRAS with a fluorescently tagged Hog1 protein (the protein activated by both pathways that sense osmotic stress and shown in green), we can see Hog1 move into the nucleus when the stress is applied (become more confined) and then back into the cytoplasm as cells adapt to the stress. Bottom: We quantify accuracy by the correlation between the decrease in cellular volume (the actual stress) and the increase in nuclear localisation of Hog1 (the perceived stress). Time-series from single cells are shown as light lines; the mean is shown as a dark line.